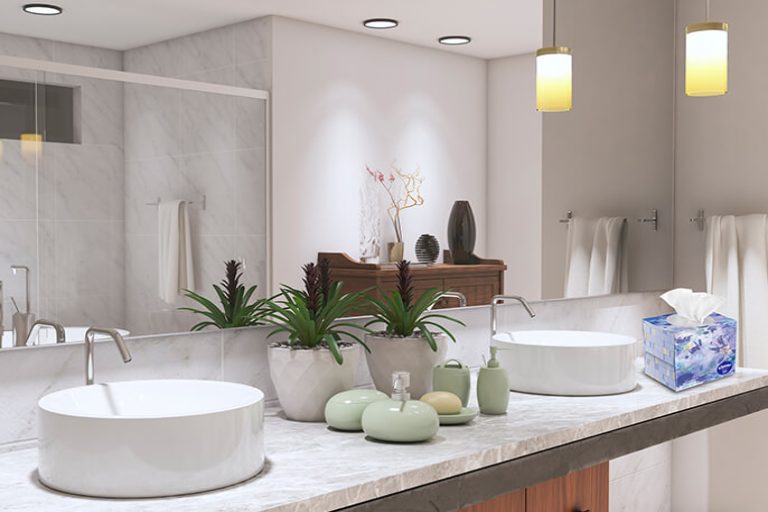 When you consider how much time we spend in there every day, it's clear the bathroom is one of the most important rooms in your home. Whether you're looking to renovate or update your master bathroom or powder room, we've got you covered with our list of essential things to put in a washroom so you can optimize your space and turn it into an inviting oasis, while you do your, errrr business.
20 Must-Haves Bathroom Items
Kleenex® Ultra Soft™ Facial Tissues

Kleenex® Ultra Soft™ facial tissues have 3 layers of softness for delicate skin, so you can blow your nose or remove your make-up with ease and comfort. Made for extra comfort, Kleenex® Ultra Soft™ tissues provide unbeatable softness (vs. leading national ultra brands) - perfect for your nose every time you need it. Be sure to have extra Kleenex® facial tissue boxes on hand to easily swap out when you need more tissues – especially during cold and flu season or allergy season. Kleenex® brand upright tissue boxes typically fit perfectly on the back of the toilet so a comforting, soft tissue is always within arm's reach.

Cottonelle® Toilet Paper

If there's any one item a bathroom should have, it's toilet paper, and Cottonelle® is an excellent choice. Store several rolls in a basket or stand-up toilet paper holder, making it convenient when you need to reach for a re-fill.

Cottonelle® Flushable Wipes

For a truly refreshing clean, try pairing Cottonelle™ toilet paper with Cottonelle™ Flushable Wipes. These wipes are designed with CleaningRipples™Texture and the cleansing power of water to help you feel confidently clean. Plus, they're plastic free and eco-friendly†, 100% biodegradable and are designed to immediately start to break down after flushing. So, you can have full flushing confidence using these wipes. Add these refreshing wipes to your toileting routine and your bottom will thank you!

Hand Soap Dispenser

After toilet paper, hand soap is the most important item in your bathroom for good hygiene use a decorative, refillable pump and customize with your favorite soap.

Bath Towels, Hand Towels, and Washcloths

They're not just functional - towels and wash cloths are an easy way to add a pop of colour and design to any bathroom. To dry your hands after a thorough washing, keep a soft and absorbent hand towel near the sink. Choose a design to compliment your bathroom's décor, and look for premium fabrics like Egyptian, Turkish or Pima cotton for ultimate absorbency and softness. Higher density towels are ideal for the bathroom and feel extra luxurious, though may require more drying time.

Pamper guests with super soft, premium Kleenex® Hand Towels – a convenient alternative to cloth bathroom towels that offer a clean, fresh, disposable hand drying experience that promote hygiene. Kleenex® Hand Towels boxes fit on counters, back of toilets or towel racks for easy access.

Bathroom Mirror

Mirror, mirror on the wall…whether you're doing your makeup, shaving or styling your hair, a mirror is a bathroom must-have and one of the easiest ways to spruce up your bathroom. When choosing a mirror, it's important to remember its size relative to the vanity. The mirror shouldn't be wider than the vanity1 and, of course, it can be smaller. The standard recommendation is for the mirror to be between 70 and 80 percent of the width of the vanity1.

Mirrors play an important part in creating spaciousness in the bathroom and enhancing natural light. Remember to hang your mirror a foot above and a foot below your eyeline1.

Good Lighting

The lighting in a bathroom should reflect the sanctuary that it is, while providing the illumination necessary to take care of life's daily functions there. The best way to illuminate the vanity is to place two wall-mounted fixtures on either side of the mirror at eye level. This helps to prevent shadows and provides cross illumination. Try 100-watt bulbs for each fixture in the master bath, and 40-watt bulbs in the powder room.2

Shower Curtain, Liner and Decorative Hooks

Unless you have a glass shower, a shower curtain is a bathroom must-have. It can also be the focal point of the room, so you should use the opportunity to show off your style. Shower curtains come in all sorts of different colors, textures, and designs, so have fun picking one out that expresses yourself. But if you opt for a curtain that isn't made from a water-resistant material, remember to use a mildew-resistant liner to protect it from mold and stains.

Non-slip Shower Mat

For safety and functionality, add a non-slip mat to your stand-up shower or bathtub so you can enjoy bathing and get in and out a lot easier.

Bathmat

In addition to drying your feet after a shower, a soft, plush bathmat can provide comfort for your tootsies as you stand at the vanity.

Bubble Bath/Bath Salts

Add some fun and relaxation to your bathing routine with some rich bubble bath. For a more therapeutic effect, try some essential-oil infused bath salts or Epson salts.

Candles

Is there anything more luxurious than a candle lit bath? Keep a few of your favorite scented candles nearby for an instant bathing upgrade. Just be sure to not leave candles unattended.

Storage Containers

Neatly store and organize all your under-the-counter bathroom essentials in storage containers to help you easily find items in a snap. Group like-items together: hair elastics, bobby pins, cotton swabs, cotton pads, nail polish and nail care, hairbrushes and combs, shaving supplies, cosmetics, first-aid, medicines, feminine hygiene products, etc. You'll be pleasantly surprised by how you can maximize your space by having a well-organized storage system.

Room Spray

Keep your bathroom smelling fresh with a bottle of scented room spray and store it near the toilet so it's handy for you and guests.

Hamper

Make laundry day that much easier by keeping a hamper in your bathroom to collect all your soiled towels and clothes.

Artwork

When it comes to hanging art in a bathroom, it's important to remember that steam from your shower can cause damage to more delicate pieces. Rather than expensive paintings or anything made of paper, try hanging canvas prints. These usually feature a moisture resistant coating that can protect them from your bathroom's excessive moisture.

Plants

Plants, like art, are great for building a room's atmosphere. Not to mention the fact that a warm, humid bathroom is the perfect place for many types of beautiful plants to thrive. Place them on the windowsill and enjoy their calming energy.

Plug-in Night Light

Rather than forcing your eyes to suddenly adjust to a bright light in the middle of the night, try using a plug-in night light to provide just enough illumination to see what you're doing when nature calls in the wee hours.

With some special care and attention, you can create a welcoming, relaxing bathroom oasis that both you and your guests will enjoy.

Garbage Can

A simple bathroom essential. Select a closed-lid option for a neat, finished look.

Plunger & Toilet Brush

Prepare yourself for any future toilet troubles by keeping a plunger nearby at all times. Likewise, keeping a toilet brush in each washroom will save you from the hassle of carrying the same one from room to room.
---